A field of 15 athletes will start the second edition of the Track 100 mile this Saturday which takes place at the Julie Rose Stadium in Ashford. All have reached qualifying marks in prior events and will have 17 hours on the day to complete the distance. On route, splits will be taken at 50km, 50 miles, 100km, 6hr and 12hr. One or two athletes will be shooting for records or fast splits at those lower marks but most have the full 100 in their sights.
Conditions look dry and overcast and temperatures are a close to perfect 4-12 degrees across the day. The only negative factor is a moderate north easterly breeze that we hope won't interfere with the athlete's pacing too much.
We welcome a field of 4 women and 11 men to the race this year. Here's a quick run down of who will feature on the day. Remember to head over to our youtube channel to watch the live stream from 0600 Saturday morning.
WOMEN
Sam Amend (GB&NI International): Sam Amend has represented England from marathon through to 100k as well as GB&NI on numerous occasions, most recently qualifying to run as part of the 24hr team. In October 2020 the 2:42 marathoner ran an impressive 14:54 for 100 miles at Gloucester, missing out on the British all surfaces record by just 11 minutes. She will surely have her eyes set on 12 hour and 100 mile GB records on the day and seems well capable of achieving both if things go her way.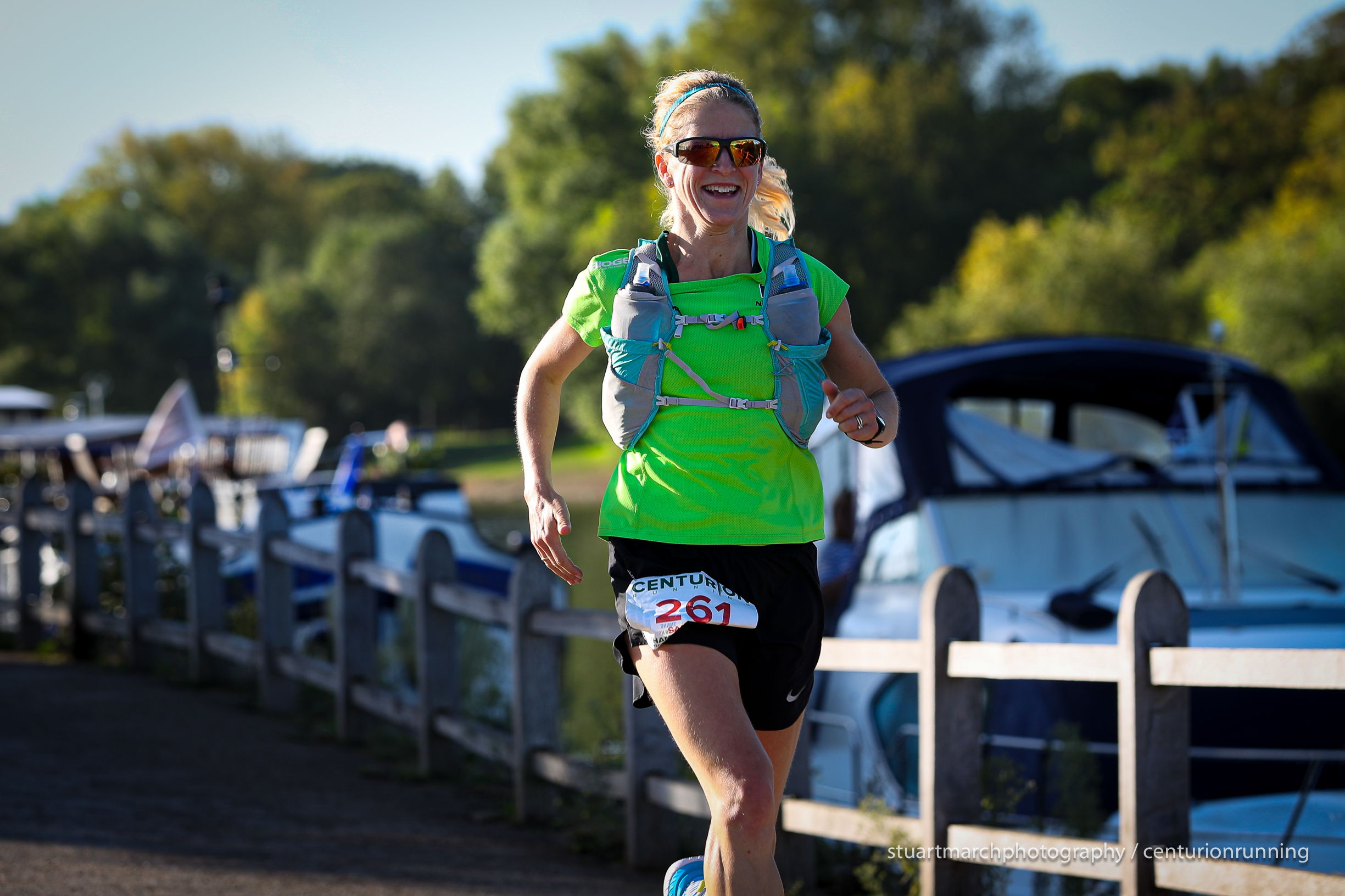 Sam Amend at the TP100 (Photo: Stuart March)
Ali Young (GB&NI International): Ali's best over 100 miles was her 16:29 split at Tooting Bec 24hr in 2015, an event at which she also qualified for the GB&NI 24hr team. She has since run in two European and two World 24hr Championships. She also has finishes at Spartathlon, GUC145 and MDS.
Jo Newens (GB&NI International): Jo has a 24hr PB of 221km, from Tooting Bec in 2019. The Scottish international clocked 16.45 for 100 miles in that same 24hr race in 2019. Over the last 12 months Newens has run a 19.39 100 miler at Gloucester 24hr race, but went through 50 miles in 7.38, and has also represented GB&NI at both virtual IAU 6hr Solidarity runs.
Sarah Sawyer: Sarah qualified for this event by running 208.6km at Bernau 24hr in 2020. Sarah also finished 4th lady at the 2019 Spartathlon in 30.37. Other notable achievements include race wins at Crawley 24hr, NDW50, Al Andalus Ultimate Trail and RTP Patagonia.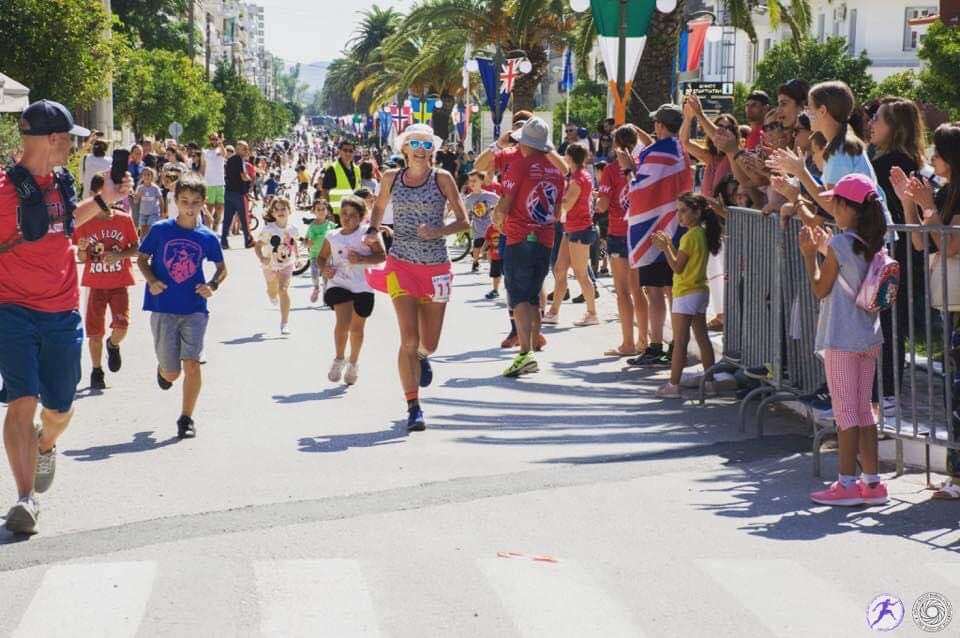 Sarah Sawyer finishing Spartathlon in 4th place (photo c/o Spartathlon)
MEN
Aleksandr Sorokin (Lithuania International) Our only international competitor, Aleksandr a resident of Vilnius in Lithuania arrived last week and has been training in quarantine indoors on a treadmill. Until Wednesday prior to the event when his test and release details came through and he was finally able to run outside once again. The current 24hr World Champion, Aleksandr was a sprinter kayaker in his youth. When he finished with sports he gained almost 100kg. One day at 32, he said enough was enough and took up running. He now specialises in 24hr running where his best performance has been that victory at the 2019 World 24hr Championships with a massive 278.97km. "I've wanted to run 100 miles for a long time. Last year James invited me, but the pandemic changed all plans. I think I'll be lucky this time."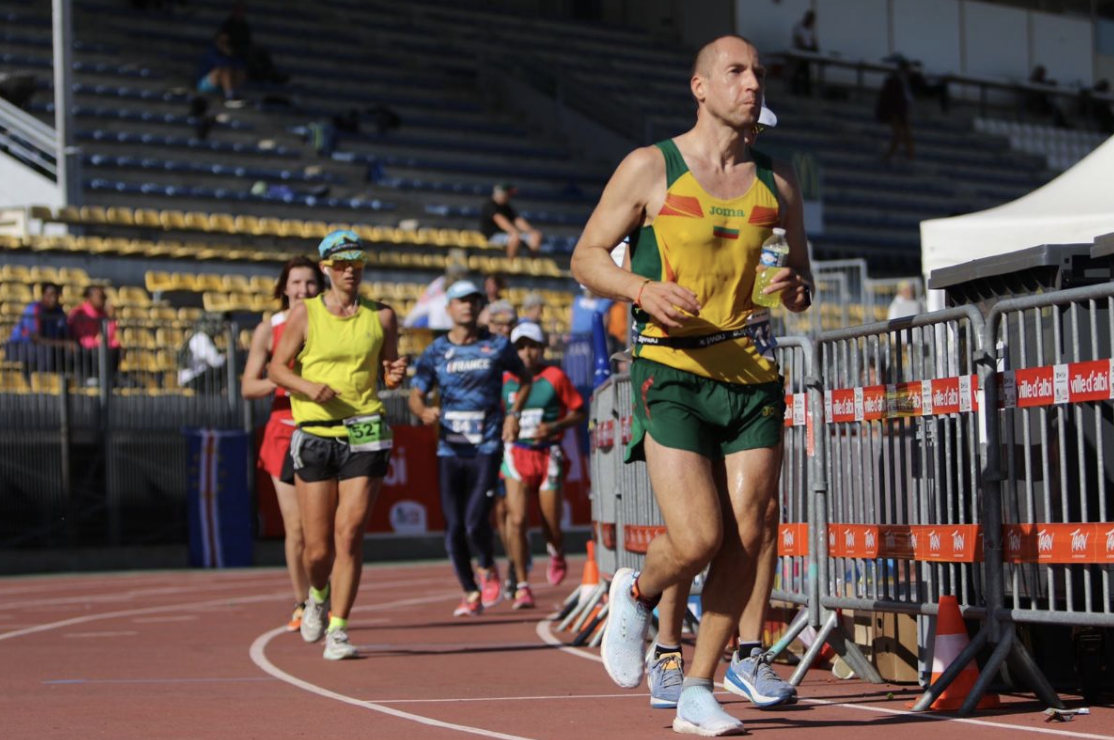 Aleksandr Sorokin on route to becoming World 24hr Champion in Albi in 2019 (Photo: Norbert Mihalik)
Grant MacDonald (GB&NI International) Grant, 42, lives in Strathblane north of Glasgow. He qualified with his 24hr PB of 251.3km at Barcelona 24hr, which also earnt him a GB&NI selection for the World 24hr Championships in Albi in 2019. "This will be my first Centurion race. I'm looking forward to the fun of racing again and curious to see what I can do over 100 miles on a day where I don't have to continue to the 24hr mark."
Rob Payne (GB&NI International) Rob is from Lincolnshire and works as a Chemical Engineer. Rob qualified with 251.9km at Tooting Bec 24hr in 2019. He has also run twice virtually for GB&NI in the 6hr Global Solidarity events, running 54miles and 51miles. In addition, when the SDW100 was cancelled last year Rob ran a solo 100 instead and clocked an impressive 14.47.
Michael Stocks (GB&NI International) Michael has represented England at 100km and made the GB&NI team for 24hrs. His GB debut being in 2019 at the age of 50. After years of focusing on Comrades, he debuted at the 100 mile distance in 2017 winning the Thames Path 100. His fastest 100 mile came during Tooting 24hr when he passed that mark in 14.17 on the way to a final distance of 249km. Michael is also the author of "One Track Mind: What Running 150 miles in a Day Can Teach You about Life."
Andy Jordan: Andy Jordan ran our first CT100 back in 2019 where he ran a PB of 14.57.38. He bettered that at the Gloucester 24hr event last year where he covered the 100 mile distance in 14.24.03 setting a new MV55 world best. That has since been surpassed and he will want it back here. Andy also has a best distance of 220.496km for the 24hr event set back in 2016.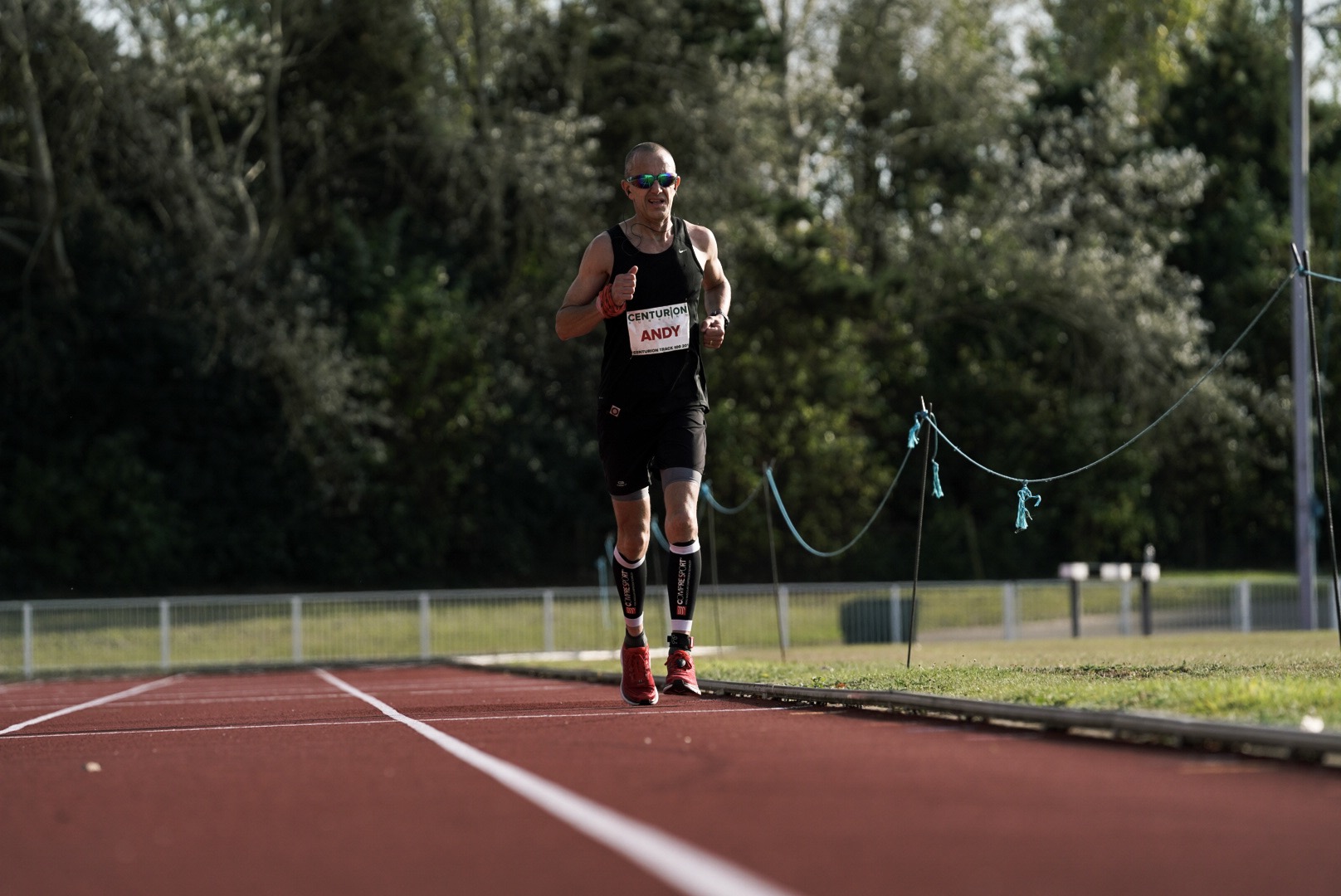 Andy on his way to a V55 World Best at his last outing at this event in 2019 (photo: Jack Atkinson)
Mark Innocenti: Mark qualified by winning the Autumn 100 last October. Mark ran a 2.31 marathon PB in Berlin and has finished numerous ultras, but he hadn't ran farther than 53 miles until he tried the Autumn 100 last year. "100 miles on a track is daunting and completely new territory for me."
Mark Innocenti on route to his debut 100 mile win at the 2020 Autumn 100 (Photo: Stuart March)
Stephen Marks: Having started running in his mid 30s, Stephen's first ultra distance race was the Lakeland 50. His first 100 mile finish was in 2015 at Centurion's Thames Path 100. Stephen qualified for this event at the Autumn 100 in 2019 running 15.21. "I'm hoping to chop a decent chunk off that time on the track."
Joe Turner: Joe qualified for this event by running 2.23.37 in the 2019 Valencia marathon. Joe's first ultra attempt was at the 2020 Gloucester 24hr event, posting 83.6km through the 6hr mark and 7.13.18 for 100km. "Unfortunately I had to pull out of that event due to injury, but looking forward to another go at the Centurion Track 100."
Jason Porter: Jason started running five years ago and has focused his efforts on the marathon, where he has a best of 2.26 set at the end of 2020. With the CT100 being his first competitive ultra race he is planning on racing one of the shorter splits before potentially returning next year to complete the whole 100 miles.
Mike Bisson: Mike Bisson qualified for the event with a 15.19 for a 100 mile event last year. Mike has a range of strong PBs from 5km through to 100 miles and has also competed at many of our Centurion events over the years.
Rob Forbes: A course record at the Cotswold Way Century in 2018 followed by a 5th at Ultra Trail Cape Town and a 12th at TDS cemented Rob's place at the top table amongst UK Ultra Runners. He has a marathon PB of 2:37 and perhaps most impressively holds the double buggy marathon world record with 2:43. He will be looking to combine his road speed and trail endurance experience for the perfect outcome here.